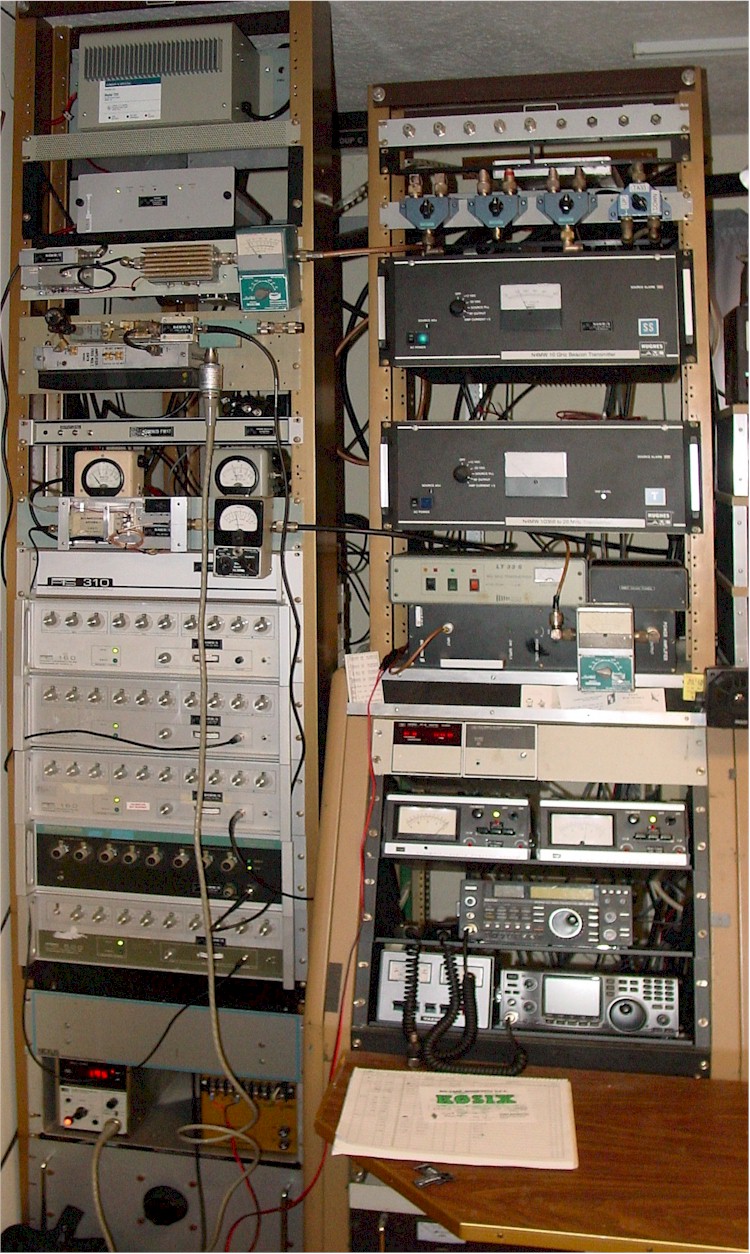 The left rack contains most of the beacon equipment. At the top is a 48 volt UPS which powers the GPS receiver. The GPS receiver is an HP Z3801A with output on 10 MHz. This reference signal is connected in a "daisy chain" to each reference input for all synthesizers, one per band. The synthesizers are PTS-160, PTS-310, PTS-500 or Rockland 5600. See below the description for each band for the particular unit used and the details of the implementation.
The 10 GHz transmitter is the black front panel chassis near the top of the right rack. In the left rack, just below the GPS receiver, is the 1296 transmitter, rack panel mounted. Below that is the 2304 transmitter, also rack panel mounted. The 1U rack chassis just above the two Bird power meters contains the identifier as well as both the 144 and 222 transmitters. In front of the two power meters is the 432 transmitter.
The rack also contains a 12 volt 10 amp power supply for powering units which do not have their own AC power supply. A small control box not shown contains a solid state AC relay which is used to remotely deactivate the 12 volt supply, which effectively deactivates all beacons by powering of the identifier.
Output power monitoring is provided for all transmitters using various meters shown. The HP 432B meter in the bottom of the rack shows 2304 power. The two bird meters are for 144 and 222. Bendix meters are used on 1296 and 432. The 10 GHz transmitter is built into a Hughes AML chassis, which has internal power monitoring. (Revised 27 December 2009)