ARRL Classic Publications
These earlier works of the American Radio Relay League make up part of the 'Radio Amateur's Library'. Most are smaller format books (6X9") with typical black and red-orange cover art. They were produced well into the 1970's. Since then and continuing today, ARRL remains a prolific publisher of quality printed material for amateur radio. As of October 2004 there were 306 numbered ARRL Publications. Some of the more recent ARRL publications are what I consider to be Modern Classics. Although not in the business of buying and selling, in collecting the various editions I have accumulated many duplicates, so if you are looking for a particular publication please ask.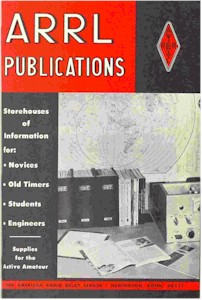 Modern Classics: Many of the "Proceedings" published in conjunction with various VHF/UHF/microwave and other specialty conferences are numbered ARRL publications. I am proud to be among those who contributed articles to many of these. One such article became the chapter on beacons in the "UHF Microwave Projects Manual" (publication 180). In 1994, the year I was Central States VHF Society President, ARRL published the "Proceedings of the 28th Central States VHF Society Conference" (publication 185), compiled by my friend and 1994 Central States Vice President Joel Harrison W5ZN (then WB5IGF), who is now ARRL President - thanks Joel! Also thanks to Joel Kleinman N1BKE, QST Editor, for providing the complete list of numbered ARRL publications. (Although another publication in that list inexplicably appears as number 185).