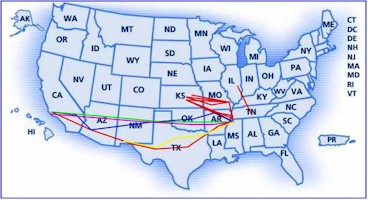 Introduction: The heyday of my flying experience coincided with the '70s boom in new airplane production. I became a ferry pilot, building time by picking up new Cessna aircraft at the factory sites in Kansas and bringing them back to the dealer. I also delivered some new planes, including three C172s and two C152s to the west coast. I flew most all the Cessna singles, including the Pressurized Centurion. I managed to experience 29 types of airplane. Some of my most adventurous remembrances result from the many airplane ferry trips I made early in my flying experience. Below are some details on each particular trip. Actual aircraft pictured where available - See also the Planes Flown Page.
April 28, 1977 C-150 N704QQ (first ferry for Southaire, MEM-MIG) Having been licensed for a little over one year, I sought a way to get in on the ferrying of new airplanes that other pilots talked about when sitting around the flying club office. The club secretary had some influence with a local airplane dealer. She provided them my name as a potential ferry pilot when an opportunity arose. This opportunity arose one day when I received a phone call at work asking if I could move a Cessna 150 from Memphis International to Charles Baker airports. I successfully carried out the mission, taking all of 0.3 hours to complete. An inauspicious beginning, but I was in!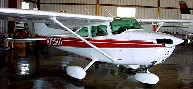 May 26, 1977 C-172N N75801 (ferry from Winchester, TN to Carmi, Ill for Southaire) A month after my initial flight I received another call to move a plane cross-country. After being dropped off at Winchester, I launched in a squeaky new Skyhawk toward Illinois. The chase plane went somewhere else to pick up the pilot of another plane first. I was on my own, flying for free. The flight was uneventful. Carmi is cut out of cornfields a short distance from the town. After snooping around to find the plane's new owner, I found the airport deserted. I took off and circled the town to alert anyone who noticed that their new aircraft was there. Sure enough, the owner came right out. It turned out he was kind of peeved about some perceived cosmetic discrepancy. I had to tell him that I was just delivering the plane. When the chase plane showed up a little later on, he was able to tell the chase pilot, who worked for the distributor. Fortunately, most of my subsequent flights were transshipments, not final deliveries.
November 15, 1977 C-172N N738CD (ferry from Strother to MEM, flight of 4) This was my chance to fly a really new airplane. After the Cessna test pilot finished and a new plane is ready for delivery, it only has a couple of hours on the tach. Factory pickups generally involved transporting several pilots at once. We then would all come back in loose formation. The chase plane was usually a high performance single, typically a Skylane or Skywagon. All that was required at the factory was to get the POH from the delivery center, sign a document and find the plane. That could take a while with all the completed planes lined up in row after row. This particular flight ended up back at MEM where we started.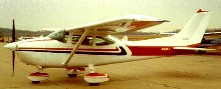 December 03, 1977 C-182Q N759PJ, ferry from Pawnee to GGI, flight of 2, no radio) After only three previous flights in which I had not bent any aluminum, I was deemed ready for some new types. In this case, a new Skylane. I had at this point checked out in the flying club Centurion, which qualified me to take on the bigger Cessna singles, or so it seemed. Pawnee field is a rather special place to fly into and out of. It is located on the east side of Wichita, right on one corner of McConnell AFB. The standard pattern procedure is to remain west of the field on approach and departure and remain below 200 AGL. As my CFI put it, "the only legal buzz job in the country." To do otherwise meant tangling with fighters, bombers and tankers. Oh My! I checked myself out in a wonderful new Skylane and had another uneventful flight, this time to Cape Girardeau.
December 22, 1977 C-172N N738NB (ferry from Strother to CGI, flight of 4, no radio) Another mission to Strother Field, this time with a no radio plane. This is no problem when traveling in a "flight" of 4, with a chase plane. It did feel strange to be unable to communicate or navigate using the electronic navaids we get accustomed to. It sure sharpens one's pilotage skills.
February 23, 1978 C-152 N49473, ferry from Strother to MEM) Another uneventful mission, this time in the new model 152, all the way to Memphis. A great way to build up time.
March 06, 1978 C-152 N49897 (ferry from Strother to MIG) Still building time …

March 10, 1978 C-152 N49439 (ferry from Strother to MIG) Yet another 152 brought home.
March 22, 1978 C-172N N738MT (ferry from Strother to MEM, no radio)

Bringing a no radio craft into an international airport requires obtaining an advance clearance. In this case, I landed at M01 and made a telephone call. From there it was just a short hop to a landing on now defunct runway 15 at MEM.
August 02, 1978 C-172N N739VZ (ferry from OLV to HRO) From here on out the planes were ferried for Centaur out of Olive Branch, MS.
August 02, 1978 C-182Q N94945 (ferry from Strother to OLV) This one must have been brought to Strother for storage.
August 27, 1978 C-152 N49465 (ferry

OLV-HOT-PRX-ABI-INK-ELP-PHX-PSP-Santa Paula, CA) I awoke at 11 PM Sunday evening when the phone rang. It was Philip Fortner of Centaur asking if I'd like to take a C-152 to California. Of course, I a

ccepted. Philip anted me at OLV at 4 AM Monday (that's 5 hours later). Again, I eagerly agreed, but expressed concern that I did not have charts for that route. He said that would not be a problem because it would be a flight of three and he would do the navigating for all of us.

We launched early enough to arrive at our first stop in Hot Springs, AR. We got a ride to a nearby restaurant and had breakfast. Then on to refuel in Paris, Abilene, Wink and El Paso, TX. Texas is a big place. We left El Paso just before sunset, trying to make Phoenix. Click here for an expanded narrative of this flight leg. All in all we went from OLV to PHX in one 15 hour flying day.

The next day's flight was uneventful. It took us across death valley, through the Banning pass, into the Los Angeles basin, over the Hollywood sign and into Santa Paula. Visibility in the LA basin was very good. Santa Paula is in the valley between two mountain ridges. The traffic pattern is over the mountain side rather than the valley, to keep down the noise over the small city. This means that you don't have a lot of altitude AGL in the pattern. Once on the ground, it was immediately apparent that this little airport was a hotbed of grass roots aviation activity. The little Cessnas we brought in were to be boxed up and sent on to Australia by a company called Southern Cross Aviation, an appropriate title. We were ferried back to Van Nuys airport to catch a commuter to LAX for the flight home.
September 06, 1978 C-172N N739KT (ferry from CGI-OLV, flight of 4) Nothing special here other than noting that I later got to fly 739KT on to California.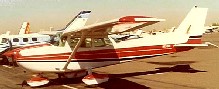 September 12, 1978 C-172N N739NQ (ferry OLV-HRO-OKC-TCC-PHX-BLH-Santa Paula, CA) After a stop to Harrison, AR, for breakfast, our flight of three went on to refuel in Oklahoma City and Tucumcari. We were delayed when one of the flight managed to get separated. Since he was in a no radio plane, we had to wait in Harrison until he caught up. Poor Rod was not having a good day and could not find Harrison. He found an airport and called us at Harrison. The problem was that he did not know where he was. We suggested he hang up, call the operator, ask where he was, then call us back. He said he was in Cassville, MO, so we told him to stay put and we would come pick him up. All that made it a long day, but we managed to make it to Phoenix for our overnight. The leg into Phoenix was dark and moonless, over featureless mountain terrain. We climbed very high just to be sure that we were well clear of the peaks. We were visited by two military fighters, who were scrambled to check out the odd flight of three slow targets. One hovered above us and the other came in close to identify us. We communicated with flight service to see if we might have entered a hot area, but nothing was up. After an overnight in Phoenix, we continued on to Santa Paula, with a water stop in Blythe, Ca, one of the hottest places anywhere.
October 06, 1978 C-182Q N84870 (ferry Pawnee-SGF-CGI-MEM) This time I was in charge of returning the chase plane after picking up the others in Cape Girardeau and returning them to base in Memphis.

October 20, 1978 C-152 N64911 (ferry OLV-PRX-ABI-INK-DMG-WCX-BLH-Santa Paula, CA) This was like the first mission to deliver a 152 to California, but we didn't make it quite as far. We stayed overnight in Deming, NM, after crossing some of the most inhospitable terrain I have encountered, volcanic lava flow fields and the like. The hotel in Deming had HBO, the first time I had seen it. We stopped for fuel in Wilcox, AZ, where the wind was blowing 30 knots.

October 25, 1978 R-182 N4449R (new type (#17, Skylane RG), ferry Pawnee-CGI) This was one of the new retractable Skylanes. It was a pleasure to fly.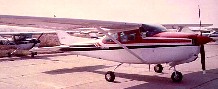 October 30, 1978 TR-182 N4829R (new type (#18, Turbo Skylane RG) ferry Cook Field, KS-GCI) This turbocharged retractable Skylane was reputed to be the first one delivered. It was being stored at Cook field, a small strip east of Wichita. After familiarizing myself with the POH, I launched. This was the first turbocharged craft I had flown. I got so preoccupied with the boost pressure that I forgot to retract the wheels right away. The strip was barely wide enough to accommodate the gear stance, so I had to concentrate on steering too. My plane had supplemental oxygen, so I climbed to 17,500 feet just to try it out. Although the chase plane, a C-210, departed ahead of me, I arrived at CGI ahead of it. I calculated that I reached mach 0.3 on my descent.
December 10, 1978 C-152 N89926 (ferry OLV-MIG) This was just a local ferry flight, but my wife got to ride along this time.

December 10, 1978 C-152 N89892 (ferry Strother-HRO-MIG) I didn't plan it, but I got some instrument experience on this mission.
January 21, 1979 C-172N N739KT (ferry OLV-LIT-AMA-ABQ-PRC-Santa Paula, CA) This plane I had originally picked up at the factory. We stayed overnight in Albuquerque. We flew over Meteor Crater and stopped for lunch in Prescott, AZ. It was dusk when we arrived in Santa Paula, and nobody was around to take us to Oxnard to catch the flight home. We "borrowed" a Maule Rocket from Southern Cross, which is a heavy duty taildragger, and proceeded to Oxnard on our own. None of us had flown a Maule. Of the three of us, Philip, as the responsible company representative, took the left seat. The other pilot was an instructor, so he took the right seat. I was the only one of us with tailwheel time, so I set in back and issued directions. We made it just fine. 739KT was the last 172 actually flown on to Australia (vs. being dismantled and shipped) by Southern Cross.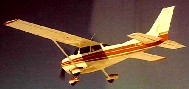 January 28, 1979 C-172N N1345E (ferry OLV-SNL-OKC-TCC-ABQ-PRC-Oxnard, CA) Note that this was the second C-172 I delivered to California in the same week. We overnighted in Albuquerque again. Leaving ABQ it was snowing fairly heavy. We encountered scattered snow showers, but it cleared up to the west. This trip was quicker all around. We flew directly into Oxnard to catch the commuter flight. We landed as a flight of three, and received the compliments of the gentleman who met us there, an ex RAAF fighter pilot, who

gleefully observed our overhead circling flight-of-three approach.
March 15, 1979 T210N N7567N new type (#21, Turbo Centurion), ferry Pawnee-GCI
April 02, 1979 C-152 N49023 (ferry Strother-CGI) Yet another C-152.

April 06, 1979 P210N N4651K new type (#22, Pressurized Centurion), ferry Pawnee-CGI, no radio) This was my first and only pressurized aircraft flight. The Centurion had no radios, but had a full flight director autopilot. I quickly discovered that the autopilot wanted to roll continuously if the heading bug was moved over 30 degrees. After a couple of brief knife edge bank experiences, I figured out not to do this. Since I had no radios, I landed at Sikeston

to obtain a telephone clearance into CGI.

April 06, 1979 U206G N733BM This was not a real ferry flight. We were offered some free time in a new U206, so we went up and shot some instrument approaches. We were able to change pilots in mid air due to the roominess of the big single.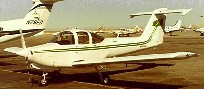 April 13, 1979 PA 38-112 N2461K (ferry OLV-SLR-ABI-INK-El Paso, TX) This was my one-and-only Piper ferry flight. I was the flight leader (I got to keep the green stamps when we filled up in Wink, TX). The flight was uneventful. Oh yes, the Tomahawk spins great.
May 18, 1979 C-152 N25932 ferry GCI-OLV Nothing special.
May 18, 1979 C-172N N6395D ferry Strother-CGI Yet another C-172.
June 01, 1979 C-172N N6449D ferry Strother-CGI And again.
June 12, 1979 U206G N29813 (Strother-CGI) This time I flew the chase plane. The right brake failed but I rolled out OK.

May 04, 1986 M20C N2606W (ferry M78-MEM) A co-worker, Nita Goss, had arranged to borrow a Mooney Ranger in Malvern, AR, so she could take flying lessons in it. It had been setting around for a while, but a mechanic had checked it out and declared it airworthy. I agreed to help her. We made it OK other than a few problems with the old tube radios acting up.